Quality Products
Made by professionals with years of work experience.
Secure Payments
You can pay via popular payment methods like Paypal & CCAvenue.
100% Satisfaction
If you are not satisfied with our product, we will return your money.
24/7 Customer Care
Our customer care team will always help you.
Overview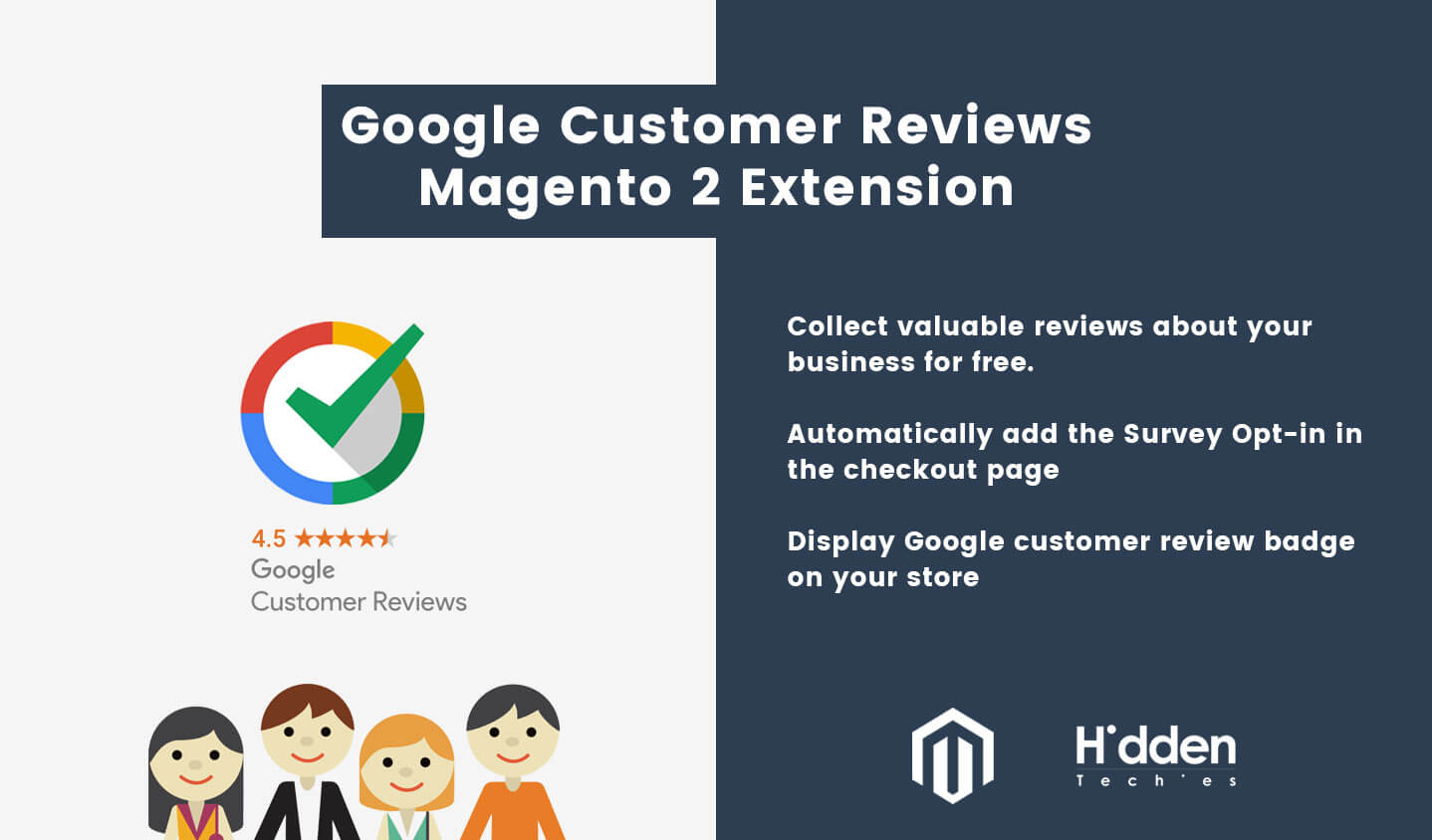 Google Customer Reviews Magento 2 Extension will allow you to show Google Customer Reviews Badge on your Magento 2 stores as well as display survey opt-in to collect customer review on order success page. The Survey opt-in allowing customers to provide valuable reviews when it is requested by Google.
Google Customer Reviews is a free program that lets you collect feedback from users who have made a purchase in your store. Ratings from Google Customer Reviews apply to your seller ratings eligibility. This rating appears on search & Shopping ads, and on an optional badge that can be displayed on your store.
Features
Easy Installation

Super easy it is!! You can easily install any of our theme and plugin with just a single click. You can also take a live preview.

Extension Validation

In every store extensions play a crucial role and it is important to ensure their quality. We have validated all our extensions using Official Validation Tool.

Clean Coded

The extensions are well coded and optimized. If user wants to customize the extension then it will be easy as extension provides clean code which is easy to understand.

Well-Documented

Well documented means you will get every information related to the theme, plugin or HTML templates in an understandable manner.
How to set it up
Follow the steps below to get started
Log in to your Merchant Center account and click on the 3-dot icon drop-down in the top right-hand corner
A drop-down list of options will appear; select Merchant Center programs
From here, navigate to the Google Customer Reviews card
Click Get Started to sign up
Read and check the user agreement, then hit save and continue.
---
Improve your SEO
Seller ratings for your site are showcased via a 1-5 star score rating that appears on search ads and Google Shopping, as well as your Google Customer Reviews badge.
---
With Google Customer Reviews, you can:
Collect valuable reviews about your business for free.
Display a badge on your site which includes the Google Customer Reviews logo
Automatically add the Survey Opt-in in the checkout page
Define the position of the Google Customer Reviews badge on your store
Analyze review to get a better overview of the shopping experience you provide
---
How it works
Customers who've made a purchase on your site are presented with an option to opt-in to receive an email requesting feedback from Google about their experience with your store.
The collected ratings are then displayed on your optional Google Customer Reviews badge.
Step 1 - Backend Configuration
---
Step 2 - Survey Opt-In
---
Step 3 - Email Received From Google Customer Reviews
---
Step 4 - Feedback Form Google Customer Reviews
---
Step 5 - Google Customer Reviews Badge
---
How to enable Google Customer Reviews
Sign in to your Merchant Center account
Select "Merchant Center programmes" from the 3-dot-menu in the upper right-hand corner.
Click "Get Started" in the Google Customer Reviews card and accept the Program Agreement.
Add the survey opt-in inside the configuration of extension.
Add the badge code to your site wherever you want. This will make the badge appear on your site and show customers that you're integrated with Google Customer Reviews.
---
Troubleshooting (The badge is not visible)
Click below link to see some common errors that you might encounter when implementing the GCR badge code.
---
Installation Process
Backup your web directory and store database
Download extension package from your account
Copy files and folders from archive (Plugin Files) to root directory
In command line, using "cd", navigate to your Magento 2 root directory
Run below commands:

php bin/magento setup:upgrade
php bin/magento setup:static-content:deploy -f

Flush store cache and log out from the backend and log in again to see changes.
Extension is now installed and ready for work.
---
Quick Support
We believe in providing the highest level of service, so we make an effort to respond to every mail within a day. So you can be sure we're here for you.